Working in the wedding Industry I already had lots of idea's on the different aspects of our wedding and some suppliers that I loved, so with so many of you in the throws of planning I thought I'd share two of them with you which might give you some more idea's.
When I started looking for my wedding dress I had a pretty fixed idea of what I liked and I didn't like, so I had a list of shops that I knew stocked the type of dress or particular style I had in mind. It was a short enough list but never being one to go with my first choice we looked at and tried on a lots of dresses (I have a very patient mother!). While all the shops we went too were very helpful and had some of the most beautiful dresses it was The White Room in Mullingar that had the dress of my dreams.
This shop is a must go for any bride-to-be! They are so helpful and calming and while some of the shops we went to were cramped and busy, The White Room was beautiful, spacious and you have the place pretty much to yourself. One thing that really struck me was how pristine the sample dresses were. They were spotless and looked brand new! There was one dress in particular that I wanted to see here (my wild card and nothing like what I thought I'd end up wearing) but when I tired it on I knew. I tried on a few others, just to satisfy my curiosity, but came back to the one I had my eye on and that was it. The girls were so friendly and made the whole experience so easy, it was a pleasure dealing with them.
So how does The White Room link with my second supplier, Pretty As A Picture? Well, as a gift from my mum on the morning of the wedding she presented me with the most beautiful sketched drawing of my dress! Now I have worked with the girls from Pretty As A Picture before so I knew their talents with designing wedding stationery and always adored Ailbhe's wedding dress drawings, so when I saw the picture of my dress I was so thrilled! It was perfect, even down to my shoes (which Ailbhe hadn't seen). It was just the perfect gift, especially since most of us never get to wear our dresses again and if you decide to sell your dress this is a fabulous way of having it forever. I just think this is such a unique gift for any bride and would be perfect from bridesmaids, family members or best friends.
Below are some pictures of my dress and the gorgeous drawing.
Thank you so much to both The White Room and Pretty As A Picture for being a part of our big day.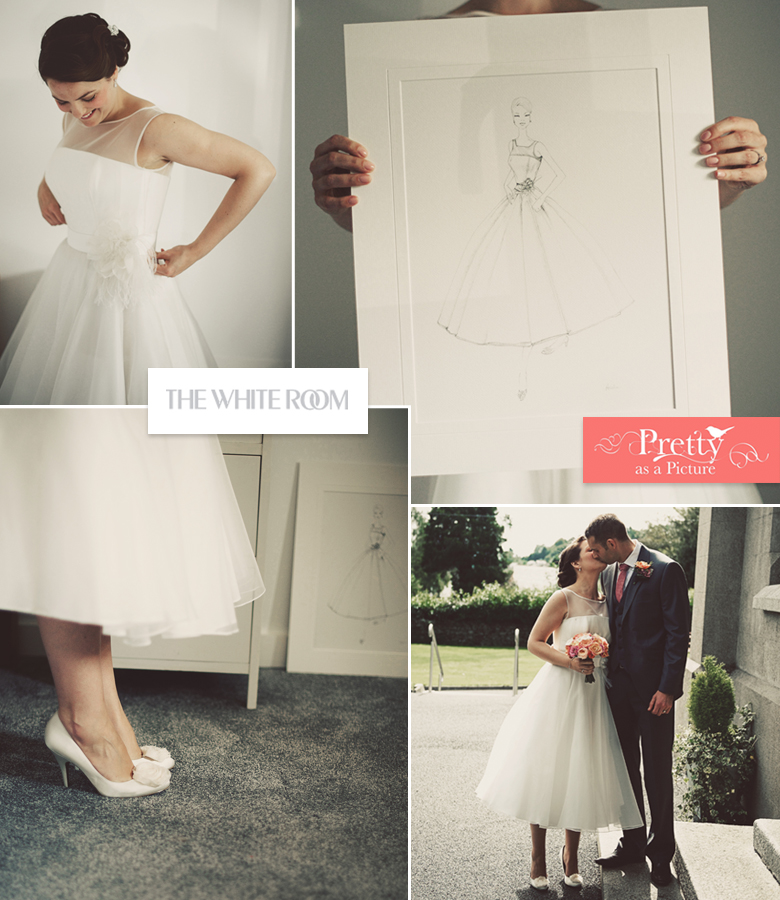 Photography by We Are The Mastersons