So, you're a little stumped on what to get the woman in your life for Christmas? Well here are a few gift idea's she's sure to love!
1. First off (and it's no surprise really that this is on my list) is the try me kit from Liz Earle. Well in fact any or her gift sets make the ideal gift for any of the women in your life from your mum to your sister, wife or best friend. They will LOVE these! The only stockist of Liz Earle in the country at the moment is Wild & Green in Milltown in Dublin so ordering online is the next best option. I have always found the delivery very fast and the packaging is beautiful, you might even get a free gift thrown in! There's a set to suit everyone and the 'Try Me' kits are a great way to test whether you like the products before you buy them full size and are perfect travel size. They're very reasonably priced and look beautiful too.
2. Next is the quartet eye palette from the Clarins Odyssey collection for Winter 2012. This eye palette has the most fabulous colours including a stunning gold that will suit pretty much anyone and I have to say the packaging makes it even more gorgeous.
3. I don't know about anyone else but my nails are always in terrible shape this time of year, chipping and weak so I tend to wear my nails quite short which is the ideal opportunity to wear all the dark, gorgeously rich nail colours on the market. Opi are one of my favourite brands and they brought out a limited edition Skyfall range to celebrate the Bond films. There are some beautiful colours in the range perfect for the festive season and would make great stocking fillers!
4. Sigma Beauty do amazing individual brushes and travel sets perfect for the make-up lover in your life. These sets come with gorgeous holders and are available in a range of styles and colours.
5. I'm a big Cath Kidston fan and these sets of towels and face clothes not only feel super soft and gorgeous they look so pretty and would looks fabulous in any bathroom. You'll find them in House of Fraser or the Cath Kidston store in Dundrum Town Centre.
6. I try to buy Irish when I can, especially in todays climate, so if the woman in your life likes gorgeous body products, packaged beautifully and you want to support Irish businesses then Voya is a great option. This company, based in Sligo, produce gorgeous products from moisturiers to hair treatments and all made from seaweed farmed off the Irish coast. They smell divine too… what more could you want!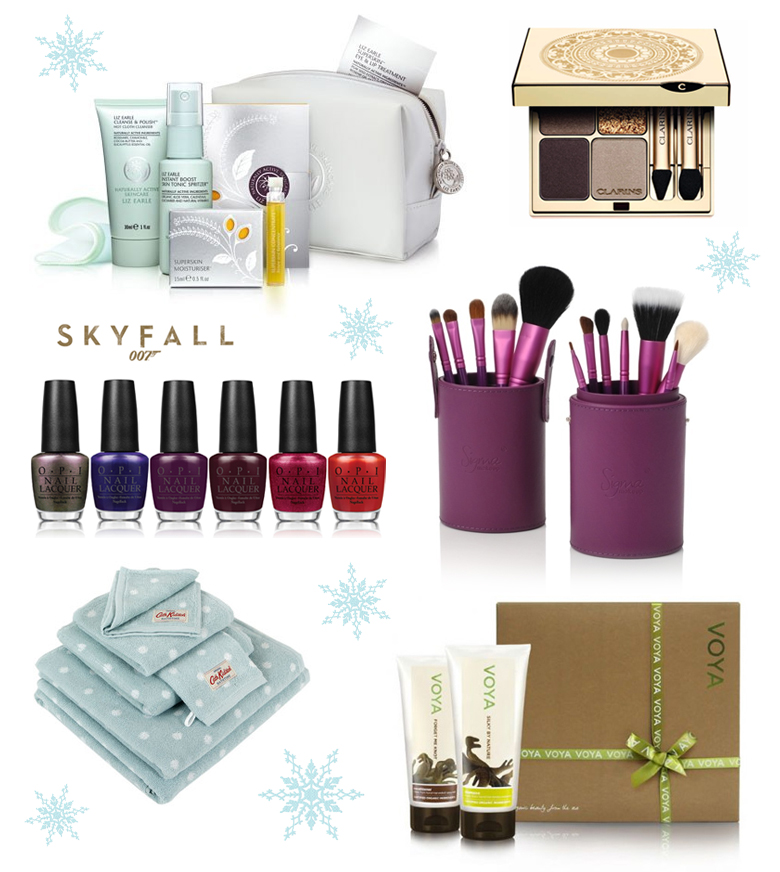 7. If you're really not sure what products your special someone would like or maybe she's just very fussy, then why not get her a years subscription to her favourite magazine. There is such a great selection of Irish magazines to choose from such as Tatler or Image and it's something she'll enjoy for the whole year!
8. I am obsessed with hand cream and I carry one with me at all times, especially during the winter months. One of my all time favourites is the L'Occitane hand cream for dry skin. It's super moisturising and smells gorgeous. They do beautiful sets which include a Foot Cream or they have smaller tubes with different scents which are perfect for your handbag. The ideal gift if you're on a tight budget and she'll love it! See their website for stockists.
9. I received one of these Laura Mercier Soufflé sets for my birthday a few years ago and I fell in love! They are so beautiful and luxurious and a real treat for someone special. They're not cheap but they will last for ages and once you try them you'll see why – heavenly!
10. Another Irish product that I always have at home are the scented candles from Max Benjamin. These candles, produced in Wicklow make a beautiful gift and are perfect to have in the house for a special evening or when you like to unwind. There's a wide range of scents perfect for every taste but my favourite is the Lemongrass & Ginger!
11. Lastly, another product which I haven't managed to get my hands on yet but lust after every time I pass the counter in Brown Thomas is the limited edition Caviar & Oyster Palette from the Bobbi Brown Winter collection. To be honest, I do have similar colours to those in this set but I just love the presentation and packaging and combination of colours. A really pretty collection of shimmer and matt eye shadows together with a gorgeous pink highlighter. Again, not the cheapest item on my list but gorgeous all the same.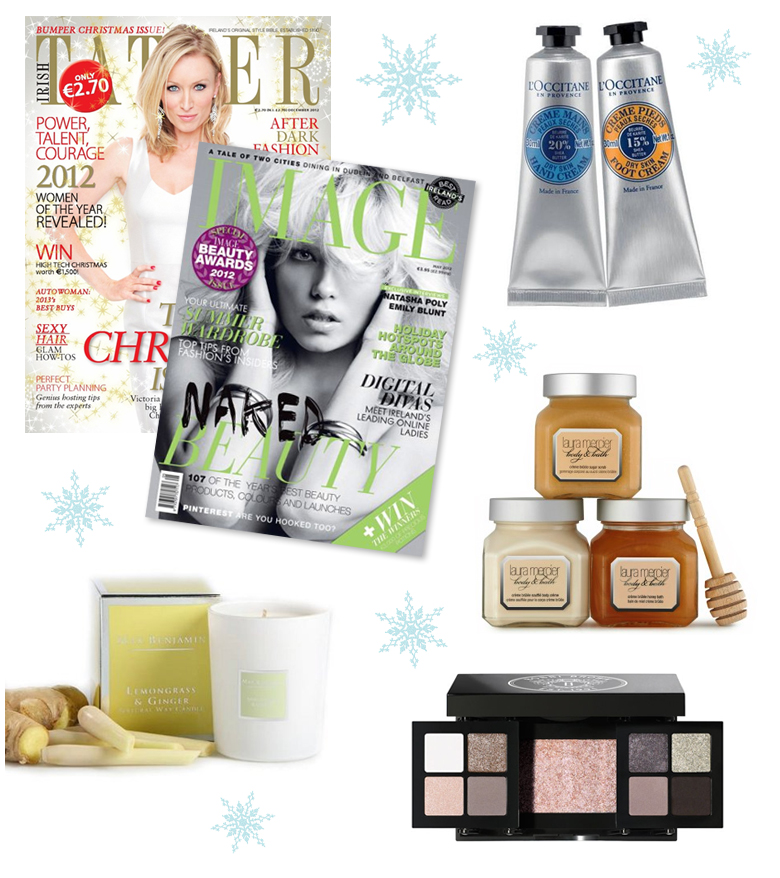 So that's just a few of my idea's that might help you with your gift shopping this Christmas.
Enjoy the build up to the big day and wishing you all a very safe and Happy Christmas!

Save