So there's only 10 shopping days left until Christmas and some of you might still be stuck for Christmas gift idea's for your sister, mum, girlfriend or maybe to drop a few hints to Santa for yourself. I'm a real Christmas lover and one of my favourite parts of the preparation is shopping for gifts. I hate leaving everything to the last minute because I love taking my time to find the right gift. So when I come across things during the year that I know other people will love, I keep note of them. I've decide to share a few of them with you here – I'm good like that 😉 . You'll find direct links to all the items in the title highlighted in pink…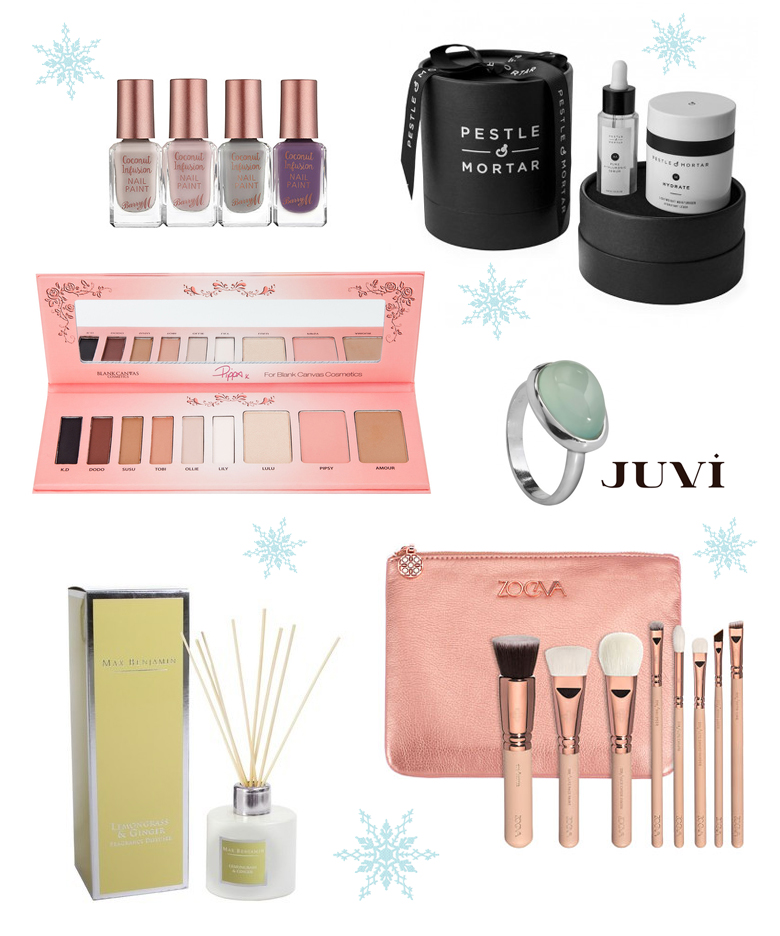 Barry M, Coconut Infusion Nail Polish €7.49 : I have to say, I'm a little obsessed with the Barry M nail polishes. I get bored quite quickly with the same colour so I'm always changing my nail polish which means I don't really want to spend a fortune on them. The Barry M ranges are really affordable, they're in small enough bottles so if they go off you're not wasting too much and they come in a huge range of shades and finishes from shimmer, to gloss and matte. The Coconut infusion ranges are so pretty and bring you through to spring too when you're sick of the darker shades. You'll find them in most Boots chemists.
Pestle & Mortar Hydrating Duo €86 : Those of you who have been hiding under a rock and haven't yet come across this Irish skincare brand need to add it to your Santa list, Birthday list, wish list and any other list you have because they are AMAZING!!!!! Their first product that was launched last year and is now a huge favourtive within the beauty industry, is the Pure Hyaluronic Serum (30ml). It's like a big drink of water for the skin and perfect for this time of year. They have created a gift set which combines it with their award-winning Hydrate moisturiser (50ml) in a chic cylindrical gift box. It's not cheap but you're getting a very good deal for both of them in the one pack and in my opinion it's worth every penny. Anyone who is serious about looking after their skin will LOVE this.
The Pippa Palette for Blank Canvas €34.99 : This face palette is a firm favourite of mine and I use it all the time on both myself and my clients. It's a really lovely collection of eye shadows, blush, bronzer and highlighter. The eye shadows are all gorgeous matte shades which are really well pigmented and blend beautifully. The blush is a really flattering peachy pink, the bronzer isn't too dark and the highlighter is a champagne shade which suits most skin tones. Perfect for the makeup lover in your life! You'll also find it stocked in Meaghars Chemists.
Juvi Ring €89 : I first came across this beautiful Irish jewellery brand on a shoot I was involved in and I literally wanted everything in sight! Their gorgeous chunky pieces with coloured stones are so simple yet really make a statement. There's so many designs and piece's to choose from so you'll find something for everyone!
Max Benjamin Diffuser €30 : I featured the candles from Max Benjamin in my Christmas gift piece a few years ago and I still love them. I was given one of their diffusers as a gift a few months back and it's the perfect addition to my living room. With so many different scents to choose from you'll have plenty of options and they make a fabulous gift.
Zoeva Brush Sets €79 : These brushes are THE BOMB!!! I bought a set last year for myself and I have to say I was well impressed with the quality and how lovely they are to use. They come in beautiful colours and finishes which makes a nice change to the usual black and silver and the little pouches they come with are gorgeous. They're very reasonably priced for the number of brushes you get and the quality so if you want to make the makeup obsessed lady very happy then these are a great buy.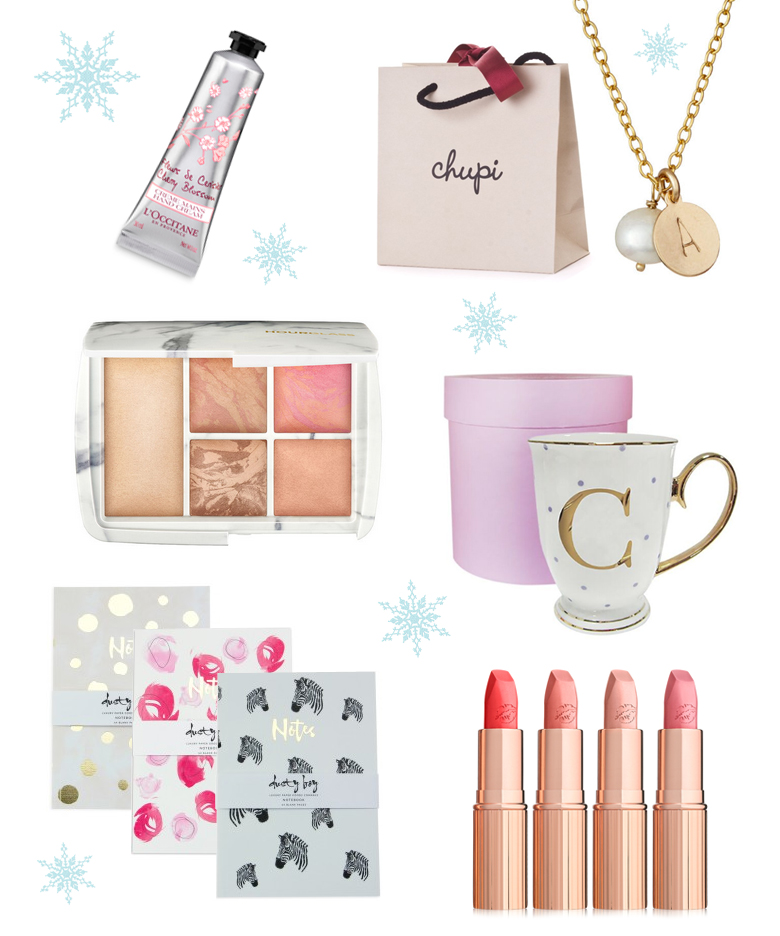 L'Occitane Travel Size Cherryblossom Handcream €10.50 : I'm a hand cream nut and have one in every handbag and every room of my house so these are a must for me. I adore the Cherryblossom one but there are lots of different ones and you could always get a set of three to make a really nice gift.
Chupi Initial Necklace €99 : This was what Santa brought me last year and I don't think I've taken it off since. Chupi, as I'm sure you know, is an Irish designer taking the industry by storm and creates the most beautiful pieces of jewellery from natural elements such as feathers and leaves. This necklace is one piece that caught my eye after I had my little girl. I wanted something that I could have always close to me so I got the pearl with mine and her initial on it. Along with my engagement ring, this is my favourite piece of jewellery and I just love it! Speaking of engagement rings, she has just recently launched a range if you're dropping some hints this Christmas or if you're thinking of popping the question, then definitely check them out.
Hour Glass Ambient Lighting Edit Palette €75 : This palette is the newest addition to the Ambient Light range and it's limited edition. It includes a setting powder, bronzer, blush and highlighter and comes in the most gorgeous marble case. It's a complete luxury and if you know a lady who is all about the glow then this is the one for her. She'll love you forever!!! It's available from SPACE NK on Grafton Street, Dublin.
Bombay Duck Alphabet Spotty Mug €20 : A really cute stocking filler for the tea or coffee drinker in your life, or me, who doesn't drink either but just loves mugs 🙂 These are available from My Shining Armour online, Moss Cottage in Dundrum Village, Molloys Chemists, Meaghars Chemists among other gift shops and online retailers.
Dusty Boy Designs Notebook €12.95 : If like me you're never without a list or have a bit of a thing for notebooks then these are just perfect. Husband and wife duo, Justin and Kate are based in Wexford and run the very cool stationery and paper goods company Dusty Boy. These notebooks are just a selection of the fabulous gift idea's you'll find and if you're getting married and haven't looked at invites yet then check them out too. Quirky, beautifully designed products, carefully thought out colour palettes, touches of gold foil for us magpies and all produced with oodles of love and creativity… my kind of business!
Charlotte Tilbury Hot Lips Lipsticks €30 : So these have been around for a few months but such a great gift for the woman who never leaves the house without her lippy applied. There are 12 shades in the collection and each one is named after a celebrity such as 'Liv It Up', 'Hel's Bells', 'Nude Kate, 'Sexy Sienna' and 'Secret Salma'. They are a beautiful Matte finish and there is literally a shade to suit everyone. The packaging alone makes these lipsticks worthy of a place in any makeup bag, a real touch of old Hollywood glamour!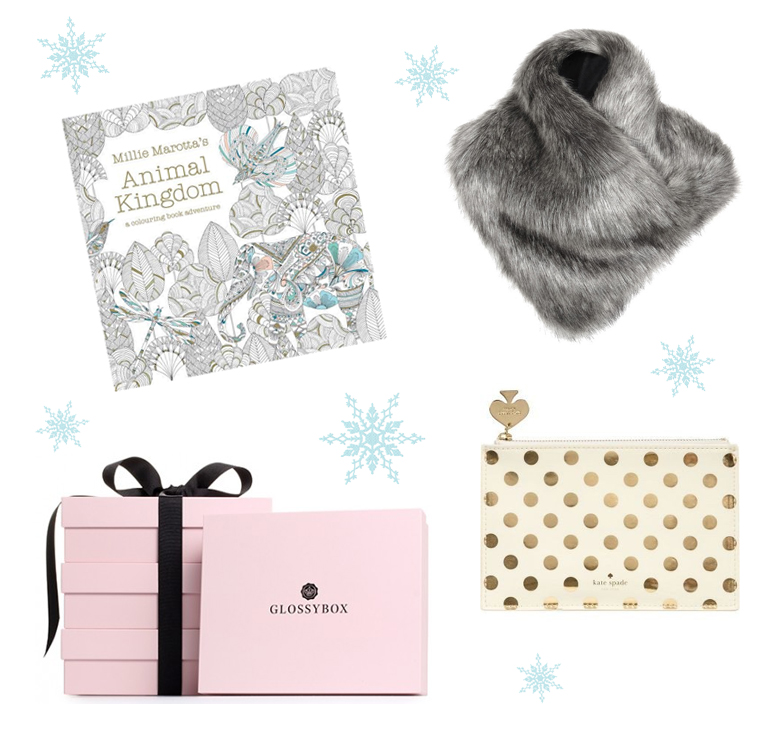 Millie Marotta's Animal Kingdom Colouring Book €12.95 : A big trend this year was adult colouring books and I have a few. I got my first one as a gift and then I bought this one and it's the perfect way for me to just switch off and relax (if I ever get 5 minutes to actually sit down!). I picked mine up in Hodges Figgis in Dublin or you'll get them in most good book shops or Moss Cottage in Dundrum Village.
Helen Moore Faux Fur Asymmetric Scarf €50 : These faux fur scarves from My Shining Armour are perfect for the colder months and look super stylish over your coat or a chunky knit. There's loads of colours to choose from and other accessories too.
Glossybox.ie €12 – €14 per month : The perfect gift for the product junkie. A subscription to one of the many monthly beauty boxes available is the gift that keeps giving. Lots of lovely new samples to try and favourite products delivered to her door every month. What's not to love.
Kate Spade Pencil Pouch €30 : This Kate Spade pencil pouch is really gorgeous. Although it's described as a pencil pouch I would use it for carrying makeup on a night out or my cards and some cash maybe! I love the gold dots – which isn't surprising really 😉
So there you go, just a few idea's that might inspire you. Happy shopping!!!

Save
Save
Save
Save
Save
Save
Save
Save
Save
Save
Save
Save
Save